In Coding for Kids and Teens, kids learn computer programming in fun engaging projects. Get STEM skills. Learn to code in our class on Programming for Kids.
Times and Locations:
Mondays – Clarkston- Jan 22 to May 21 – 12PM-1PM
Tuesdays – Royal Oak – Jan 23 to May 22 – 2PM-3PM
Wednesdays – Oxford – Jan 24 to May 23 – 5PM-6PM
Thursdays- Centerline – Feb 1 to Jun 14 – 10AM-11AM
Fridays- Oxford – Jan 26 to May25 – 5PM-6PM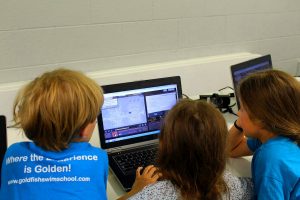 Do you know what the job market will look like in 10 years? Each year it becomes more important for kids to learn computer programming. Yet other skills like Teamwork, Critical Thinking, and Problem Solving will never be obsolete. Kinvert knows this, and teaches accordingly. Unless requested otherwise, students are put in small teams where they build coding skills in fun projects. When they run in to a challenge they are encouraged to first try to solve the problem with their team. The hardest part of being a teacher is finding a mistake in a student's code within 15 seconds of glancing at it, and not telling them what it is. By finding the bug themselves, they learn so much more than they could from a book or lecture. Students gain and retain knowledge not through lectures, but through solving problems. In Coding for Kids and other Kinvert classes we help kids overcome big technical challenges while rarely telling them how.
This is a semester long course that meets once a week. We begin in the Summer and end in the Winter.
Looking for Educational Gifts for Kids? Click here.