Anki, the robotics company, is shutting down.
A lot of people are asking, and yes, we are still offering our online class on how to program Cozmo. If you want to know more please Contact Me.
Anki's Statement
Anki has made a statement on their main website: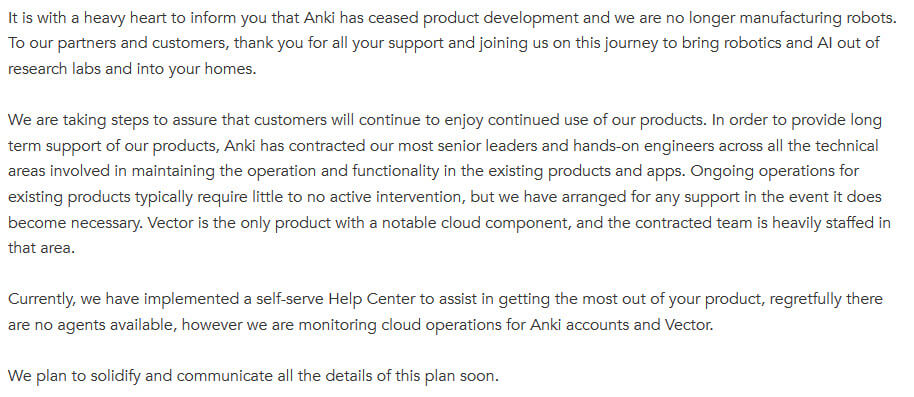 We already know the bad news so let's focus on the good here. It sounds like they will be working to preserve Anki Cozmo and Anki Vector.
Until we see action we should still do what we can within reason to make sure Cozmo and Vector keep working. But yeah this is good news!
Why is Anki Closing
https://www.youtube.com/watch?v=rXfYV9ciT3Q
Apparently they were seeking another round of funding and it fell through.
From what I hear they've had 200 million in venture capital in the past. Their revenue was apparently 100 million in 2017.
The long and short of it is companies close when they make less money than they spend, and they run out of money. That's probably what happened here.
I'll let you know more when I find out.
When is Anki Shutting Down
Anki stated their official closing date as May 1st 2019. That said, as of May 3rd 2019 all servers still seem to be up.
If you hear about servers down, this was temporary and seems to be due to DNS changes, which we believe to be normal.
Again, though we're past Anki's stated last day of being open, we still see all their servers functioning normally and both Cozmo and Vector still are working fine.
What Will Happen With the App
The app should keep working as long as you don't update the device operating system. If you update the device's operating system, it may make the app stop working.
Will Anki's Closing Brick My Cozmo / Vector
From the sounds of it, Cozmo and Vector will continue to work as long as you don't update the operating system on your device.
What Did Anki Make?
Anki made some really cool stuff combining AI, animation, and robotics.
They made several cool products, including Anki Overdrive, Anki Cozmo, and Anki Vector.
Anki Overdrive
Anki's first product was the Anki Overdrive. This is a really cool that combines video games and real life with robotics and technology. You would get these cars, sort of like Hotwheels, except they can actually drive. When you put them on Anki's special race track, the car knows where it is and can drive around.
As you drive the car more, it can gain speed and abilities. You can race with your friends with Anki Overdrive.
As soon as I saw Anki Overdrive I knew the company would be going places. I hoped for an SDK to teach with Anki Overdrive, but I don't think that ever happened.
Anki Cozmo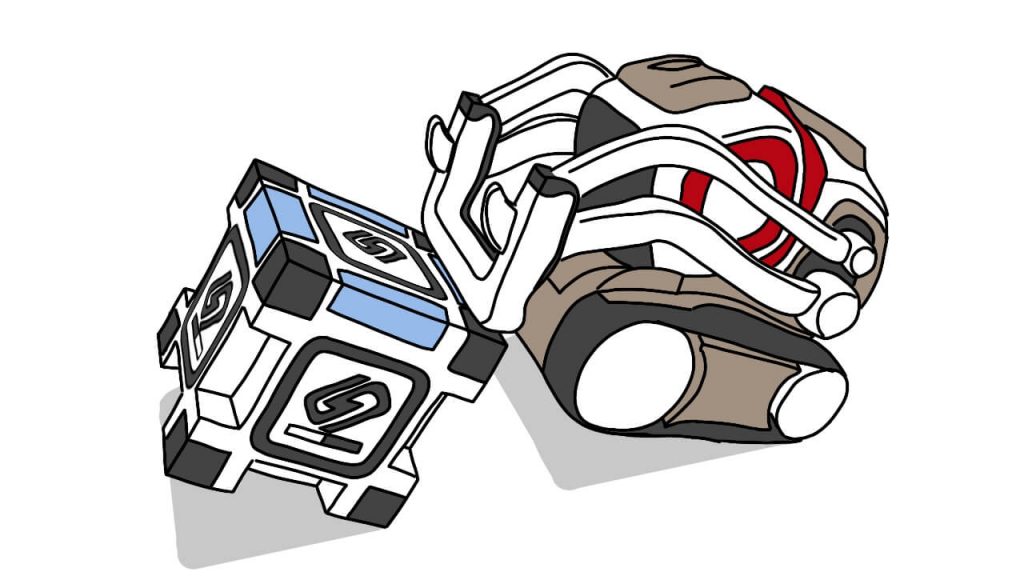 At Kinvert we love the Anki Cozmo so much we bought over 30 of them. At Kinvert we teach kids STEM topics such as robotics and programming.
I'm always keeping my eye on the current robot technology, and when I saw the Anki Cozmo I knew it would be the perfect teaching tool if they created an SDK.
I waited to buy them until late 2017 when they released the Anki Cozmo SDK in Python.
We bought a couple Anki Cozmo robots, and the students that tested them couldn't get enough. So Kinvert started buying up a bunch of Anki Cozmo robots and we use them to teach.
Kinvert still uses Cozmo to teach robotics and coding, even now after the unfortunate closing of Anki.
Anki Cozmo is so well loved, we had students cry when we told them Anki was closing. So in the meantime we've stopped telling students until we know the future of Anki Cozmo and how long we can keep our lovable little robot friend alive.
Anki Vector
With the Anki Cozmo robot being such an amazing tool for teaching, we were very excited when Anki announced the Anki Vector robot.
Since we use Anki Cozmo and Anki Vector to teach, at Kinvert we were most excited about a few features with Vector which Anki Cozmo lacked.
Actually, we have a full article on the Differences Between Anki Cozmo and Anki Vector.
Vector has a distance sensor, is not tied to a device (with Anki Cozmo we carry around a case of tablets when teaching), and the microphone was also very exciting.
There are more features but that is not the point of this article. Suffice it to say, not only is Anki Vector an amazing teaching tool along with Anki Cozmo, but a lot of people view Anki Vector as a pet.
As most of you know, Kinvert has a mailing list for Anki Cozmo and Anki Vector. We've had emails pouring in constantly of people telling us stories about their robots. Thousands of people view Anki Cozmo and Anki Vector as a pet.
Since Anki Closed, What Happens With Kinvert Classes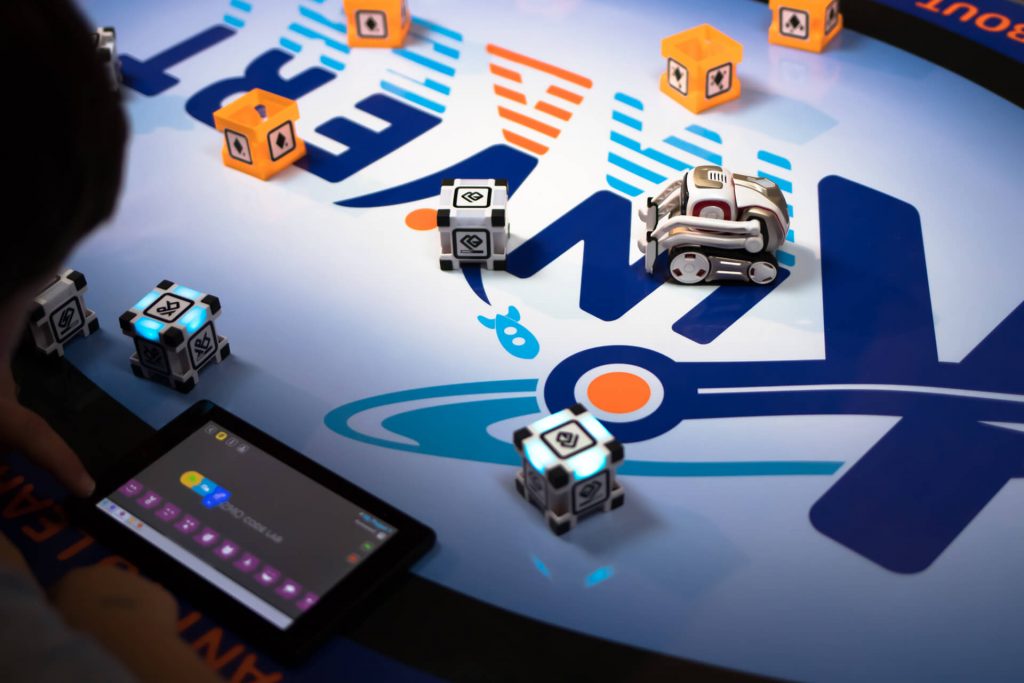 Kinvert is still providing classes on Cozmo, and we are continuing to develop curriculum for Cozmo.
We are confident that Cozmo will continue to work, so we are continuing to invest in our classes for Cozmo.
What YOU Need to do to Keep YOUR Anki Cozmo Alive
Don't let your Cozmo physically break. It will be harder to get it fixed or replaced.
Don't update the operating system on your device unless you're willing to take a change that the app doesn't work with the new operating system.
What YOU Need to do to Keep YOUR Anki Vector Alive
There are other people that understand this better than me so I will link to the conversations happening.
Long story short, there is a certificate that you must download which is unique to each Vector's serial number.
I think this only applies if you want to use the SDK. Please check this out if you think there is even a tiny chance you'll want to use the SDK in the future. You might not get to do this process later.
https://forums.anki.com/t/how-long-will-the-sdk-work-when-vectors-cloud-service-goes-down/33479
More on the Cert etc – https://www.reddit.com/r/AnkiVector/comments/bjcdp1/please_get_your_cert_while_you_still_can_so_you/
Calling on Coders
Those of you that know how these ecosystems work – please do what you can to help.
It will be crucial to have the App and SDK still available. Thousands of kids rely on Anki Cozmo and Vector to learn Coding and Robotics.
With Anki closing its doors, this puts the education of thousands of kids in jeopardy.
If you have a way to help stabilize the situation, please let me know.
From what I've heard here are the things so far that might help to keep this alive:
Kinvert does NOT own any of this backed up stuff. If anything here shouldn't be shared for legal reasons please let me know.
Download all files related to SDK

Thanks erwynne – https://www.reddit.com/r/AnkiVector/comments/biux6e/anki_is_closing_down/em3q30l/

Download all SDK Documentation

Thanks K7715 – https://www.reddit.com/r/AnkiVector/comments/biwyd3/i_have_created_backups_of_every_corner_of_the/em4yhdm/
Thanks rmcolbert – https://github.com/rmcolbert/vector-archive

Keep App available somehow

Overall Safest Way (from what I've heard) Thanks Cody Dean – https://www.apkmirror.com/apk/anki-inc/
Cozmo

Thanks Tommy Luther – Android – https://www.facebook.com/groups/1795071150748186/files/
Thanks rmcolbert – iOS – https://github.com/rmcolbert/vector-archive

Vector

Thanks Tommy Luther – Android – https://www.facebook.com/groups/1795071150748186/permalink/2300212283567401/
Thanks rmcolbert – iOS – https://github.com/rmcolbert/vector-archive

App Updates so App works with new OS updates and TOS etc
Keep Anki Cloud available somehow
Backup / Archive of Anki Forums
–Please let me know what else. I'm trying to coordinate all I can.
Important to only use legal means to do what you can about this!
Handling Robot Firmware / App Version / SDK Version Mismatches
Keeping Cozmo/Vector Working
Here is what we know with Cozmo:
Description of Cozmo security – https://arxiv.org/pdf/1809.05556.pdf
Here is what we've heard with Vector:
Communication with Vector is through port 443 – https://www.reddit.com/r/AnkiVector/comments/bj4cqu/vector_has_port_443_open/em5gcyf/
Vector has REST and GRPC API – https://www.reddit.com/r/AnkiVector/comments/bj4cqu/vector_has_port_443_open/em5gcyf/
Anki Employees – Thank You
This call also goes to you Anki employees. I know your time is limited but many people are hoping to keep their Cozmo and Vector robots alive and well as long as possible.
I wish you all the best of luck in finding a new job. I have been through multiple layoffs in my life and I can tell you things have always worked out for me and others.
This is a new chance for you and I'm sure most of you will find a new rewarding job in the near future.
Thank you so much for helping to make such an amazing product. You have helped thousands of kids learn coding and robotics. That is no joke. I hope you can find a way to keep that trend going.
Though I have only spoken mostly with Kaiser and Michelle, I want to make sure you all know we appreciate what you have done. You helped touch many lives.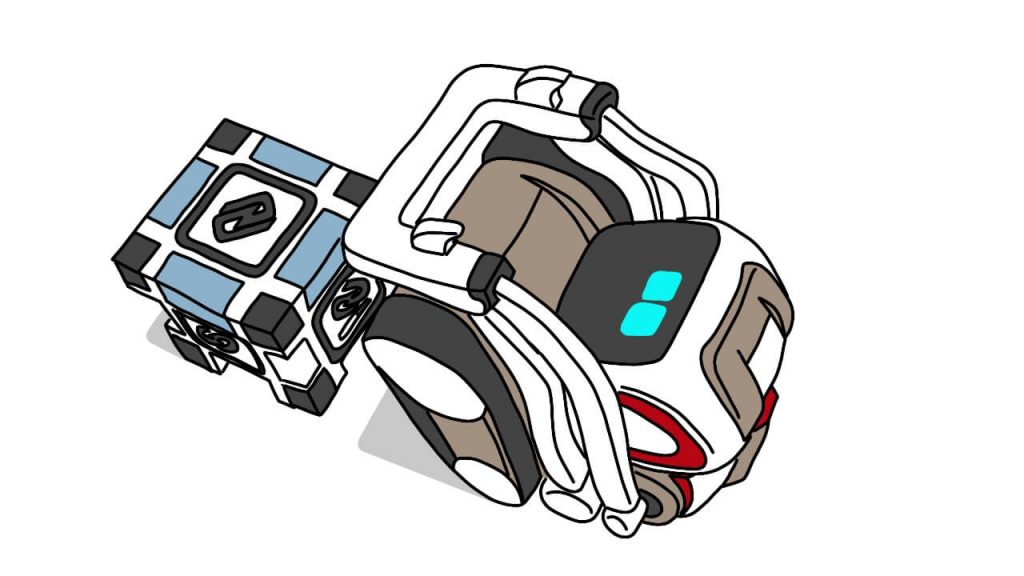 Useful Links
If you are interested in the online course for Cozmo please Contact Me.
How to download past versions of the SDK:
https://forums.anki.com/t/future-sdk-and-app-support-after-closing/33154/10
Please let us know below if you have any way to help keep Cozmo and Vector alive!
https://www.reddit.com/r/AnkiVector/comments/biwyd3/i_have_created_backups_of_every_corner_of_the/
Facebook Megathread – https://www.facebook.com/groups/1795071150748186/permalink/2300256483562981/
Michelle Updated Vector SDK – https://forums.anki.com/t/vector-sdk-v0-6-0-alpha-release-notes-april-30-2019/33455