Kinvert Teaching Kids STEM at Maker Faire Detroit
What do you think is the most important cause out there?
Kinvert is here to help. How? By giving kids the Teamwork, Creativity, Problem Solving, Critical Thinking, and Technical Skills they need to solve the World's problems.
In this article we will tell you about how we do that. You'll also learn about the part Maker Faire Detroit and The Henry Ford play in helping change the world.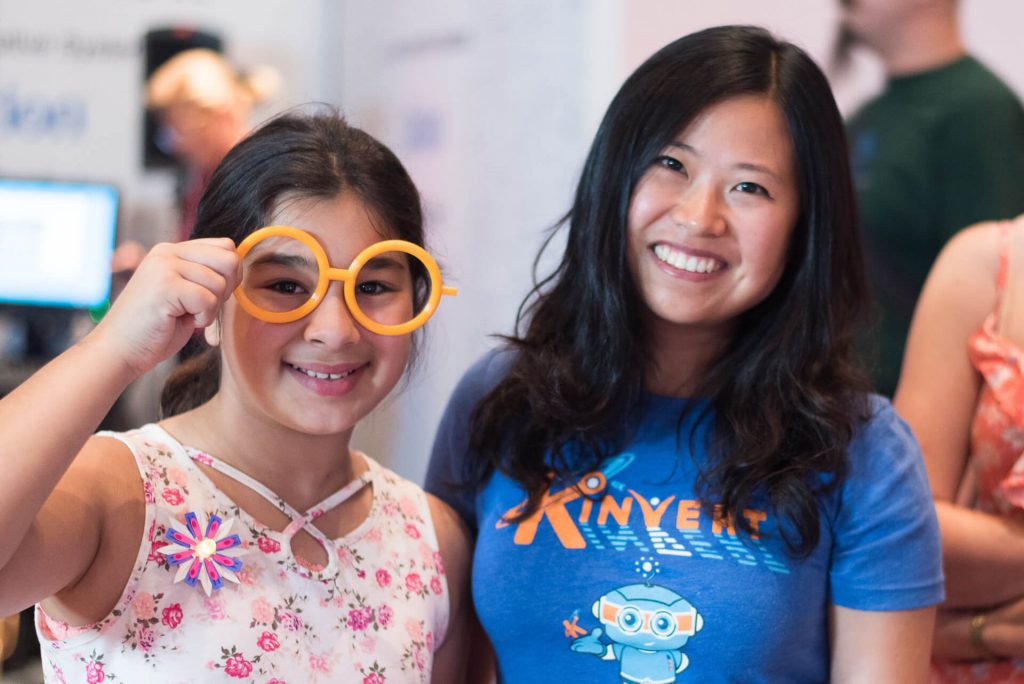 Kinvert brings the best equipment, curriculum, and instructors to STEM Education in the South East Michigan / Metro Detroit Area. Though we teach all year, Maker Faire Detroit at The Henry Ford is the clear highlight and our year end celebration. Each year we give the general public a glimpse of the innovative accomplishments of Kinvert students. We also let them get hands on and make things themselves, like this girl who wanted to make affordable frames for glasses.
We also get to showcase some of the things that set's Kinvert apart from other STEM Programs. There is more to STEM than just Scratch, Lego, and Minecraft. Before Kinvert that's basically all you could find locally.
What Kinvert Stands for and How Maker Faire Detroit Helps
Kinvert was created to solve the World's problems by giving kids the skills they need to go on and solve them themselves. Though we offer the best STEM Classes around, our true focus is on Teamwork, Creativity, Problem Solving, and Critical Thinking. Regardless of what cause you believe in, it will be helped by people with the skills we help nurture.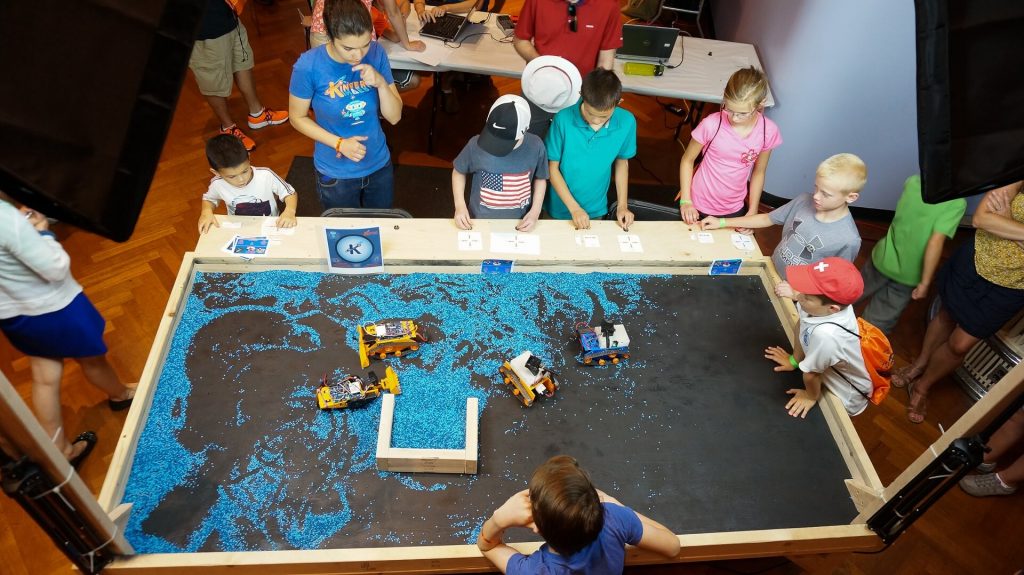 Maker Faire Detroit at The Henry Ford is great because it helps bring a broader audience and introduces them to making. There is a ton of STEM and Tech to see and experience at this event. The Henry Ford is the perfect setting for this. In addition, it gives us a chance to show thousands of people that kids can learn to innovate using College Level Technology. It is also a platform to let people know that kids can learn STEM and Autonomous Robotics from actual Engineers which wasn't really available until Kinvert was established.
Kinvert stands for true STEM Education. We don't settle for Lego, Minecraft, and Scratch. With Multiple Engineering Degrees and Graduate Robotics Competition Wins, we looked at how to teach STEM from the ground up. Maker Faire Detroit at The Henry Ford helps us showcase this to tens of thousands of people in a fun and unique way.
Why STEM is Important
There are so many reasons that STEM is important that I can only touch on them here. First of all, it is STEM that will help continue to change the world. Regardless of what cause is most important to your heart, STEM will help with it.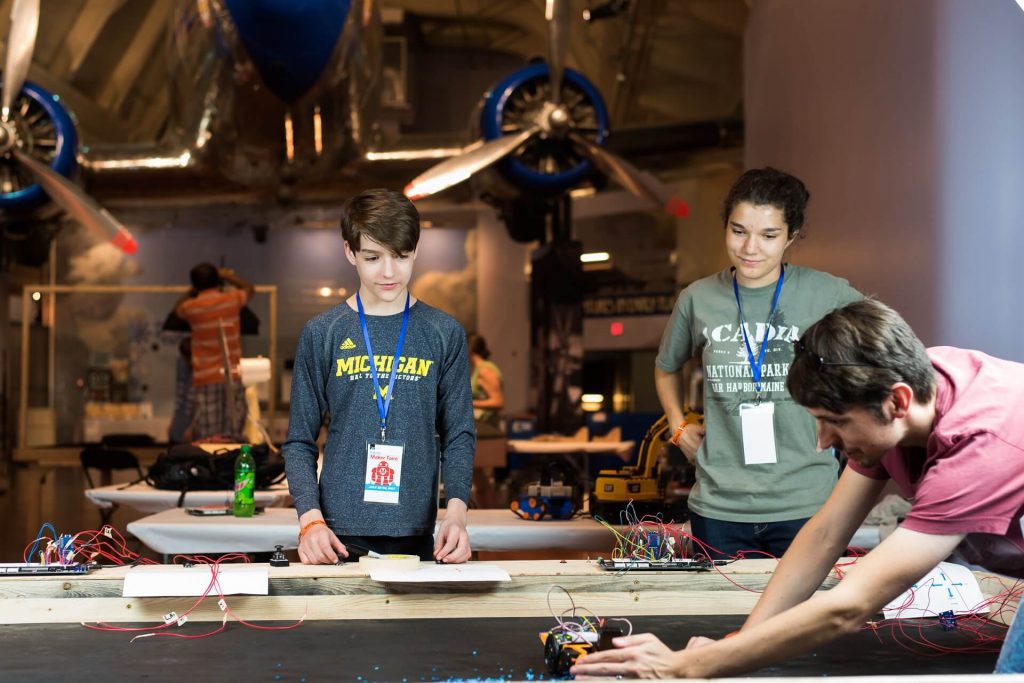 It's fun. While most schools help kids hate Math Kinvert is helping kids have fun solving problems using "tough" skills like Simultaneous Linear Equations. The girl above is in Calculus 3 (when this was written) and had never applied these skills before Kinvert.
Another reason STEM is important is because with the rapidly changing job market, it will be crucial for children to develop skills today so they can have a bright future tomorrow. We can't even imagine what the job market will look like in 20 years. But one thing is certain. Kids will need to learn to be innovative problem solvers that can direct their STEM skills toward good causes if they want to thrive in the future job market. Kinvert helps them do that better than anyone else around.
Kinvert STEM Courses
What Kinvert Brought to Maker Faire Detroit
You can see What Kinvert Brought to Maker Faire Detroit Last Year here.
As always, this year Kinvert focused on innovative student creations using College Level Technology. Maker Faire Detroit at The Henry Ford is the ultimate venue in Metro Detroit and South East Michigan to get kids interested in STEM. We're glad we can be such a big part of this and bring in a unique experience for the thousands of kids that attend.
New for Maker Faire Detroit – Construction Robots
Kinvert focuses on Project Based Learning. When the semester began we asked students what they wanted to make, and one of the project ideas was Construction Robots. Four Kinvert students took on this project and started working.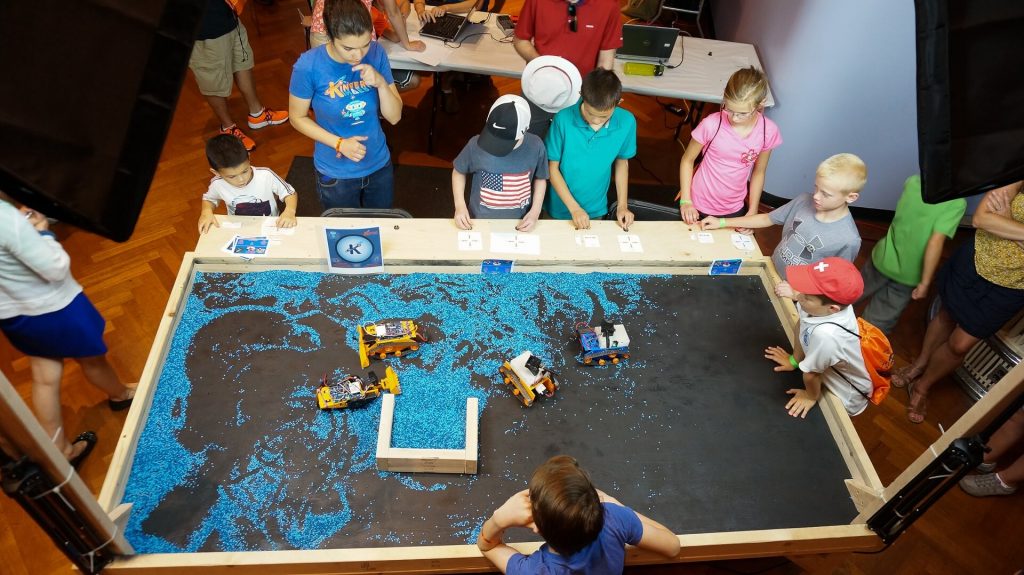 These high school and middle school students worked together on this project which is honestly at the College level and found themselves running a bit late. An innovative idea came up where students could get the basis of the project done such as most of the Coding and Design. Then they could finish the project by actually making the Robots physically at Maker Faire Detroit inside The Henry Ford. Students got the Front End Loader working Saturday morning, and the Bulldozer working Saturday afternoon.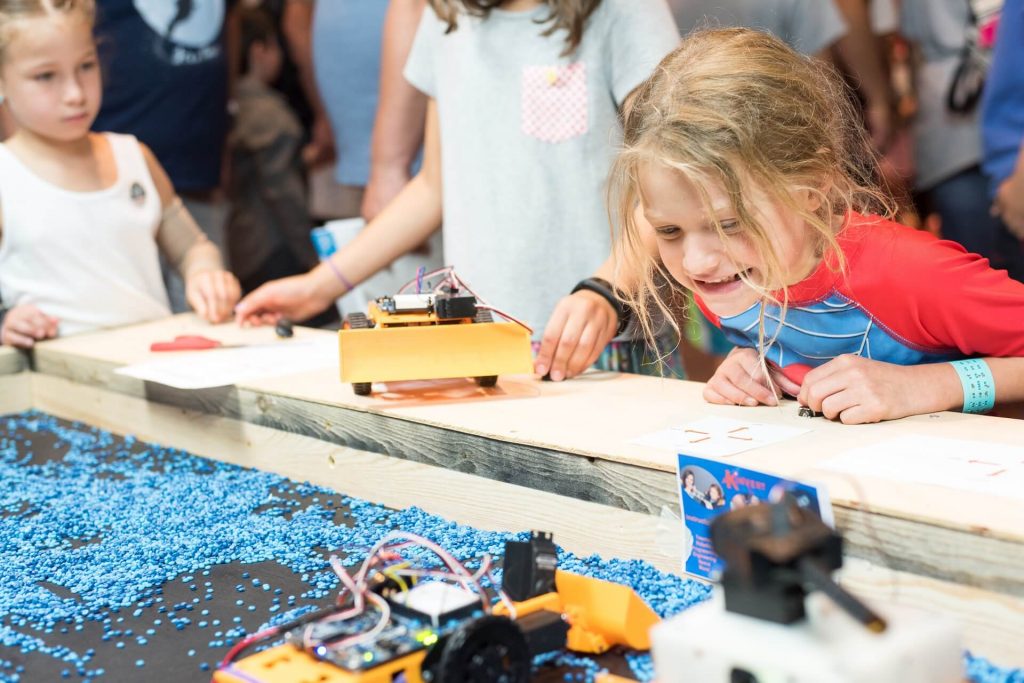 Thousands of kids got to watch our students troubleshoot and build robots right in front of them.
Thanks Jackson, Aydn, Tyler, and Gabriel for helping bring this to The Henry Ford for Maker Faire Detroit.
Making at Maker Faire Detroit – Students Work on Robots
To make this plan to make the robots in front of Maker Faire Detroit spectators a reality students had to plan ahead and anticipate sticking points. They developed the hardware and software so that when it came time to build the Robots in The Henry Ford they would be ready.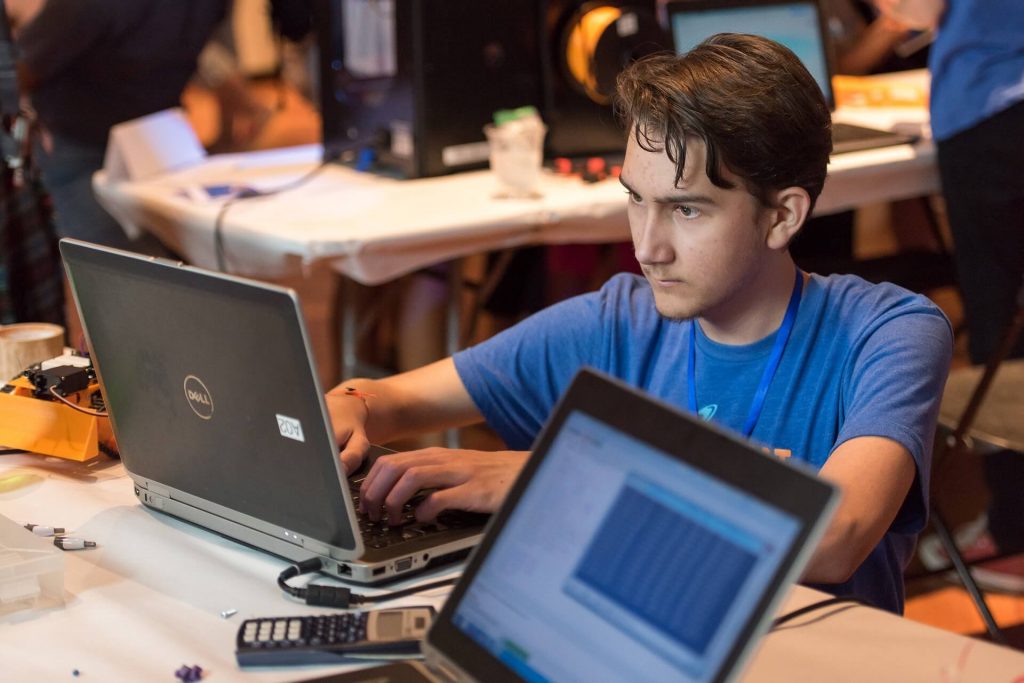 Here you can see one of Kinvert's students troubleshooting the Bulldozer in front of spectators. They found they needed to change the communication protocol to get all the robots to work together without interference.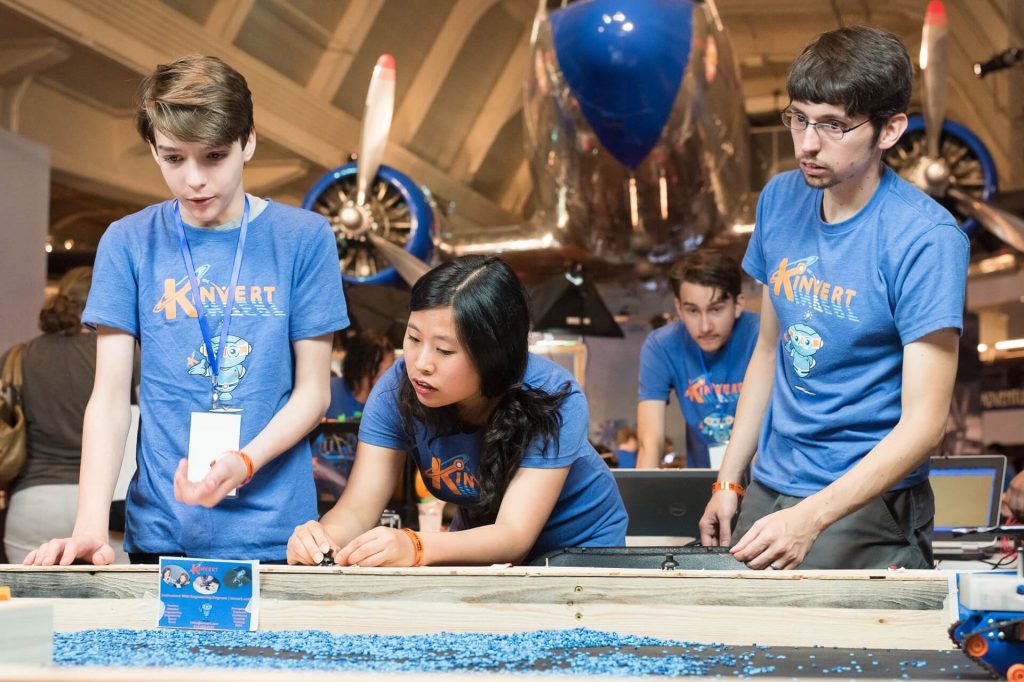 The students also found the joystick weren't getting a full range of motion so my wife and I had to modify the table we built.
New for Maker Faire Detroit – Army Tank Laser Tag
Another group of four Kinvert students was asked what they wanted to make for Maker Faire Detroit, and they came up with Army Tank Laser Tag. They made the system from the ground up, including the hardware and software. They coded in multiple programming languages including C and got everything working. Unfortunately we found the lighting in The Henry Ford caused interference with the Infrared Sensors so students had to improvise. They found a good workaround to the problem and spectators loved the end result of their hard work.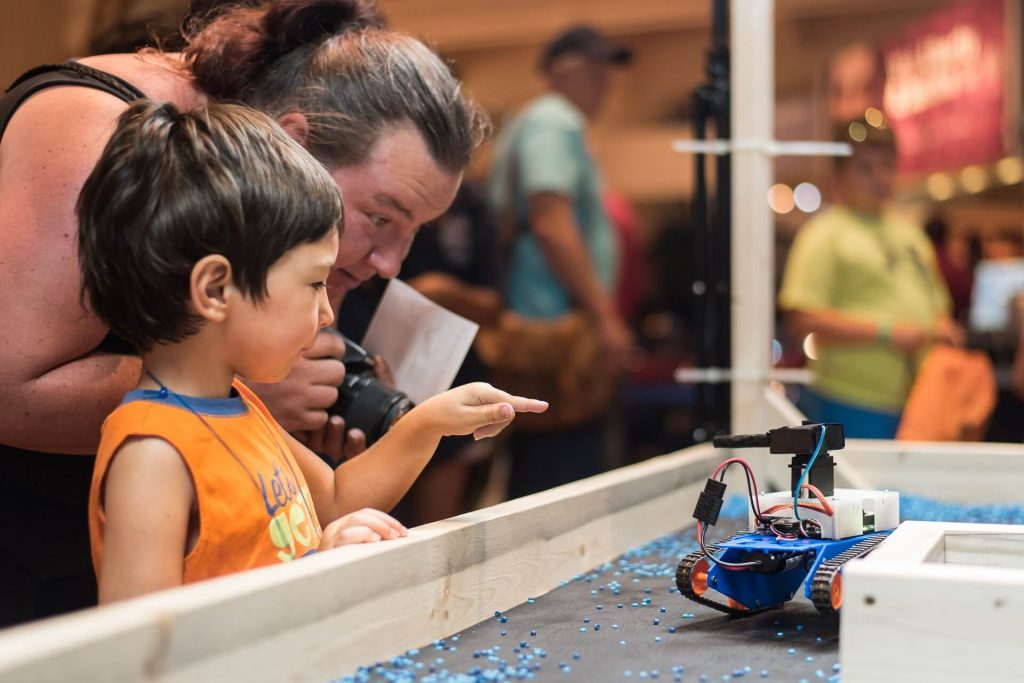 Thanks Tessa, Timothy, Oscar, and Liam for helping make this a reality. So many kids loved these tanks at Maker Faire Detroit.
3D Printing – A Maker Faire Detroit Staple
A staple of Maker Faire Detroit is 3D Printing. You'll see 3D Printers of all shapes and sizes at this event. What makes ours different? The way it is used.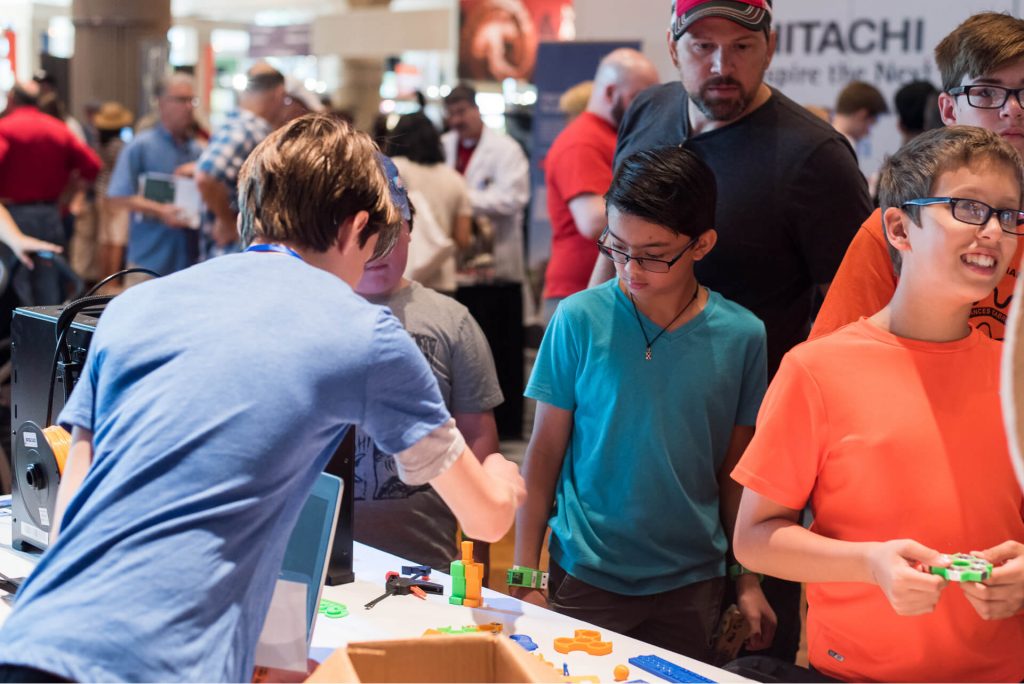 One way we do 3D Printing different is that we teach 3D Printing on a whole new level and have students make their own creations. The Construction Robots and Army Tank Laser Tag were made with 3D Printed parts that students designed themselves. They learned from Keith, a Multiple Degreed Engineer who Designed in industry for well over a decade.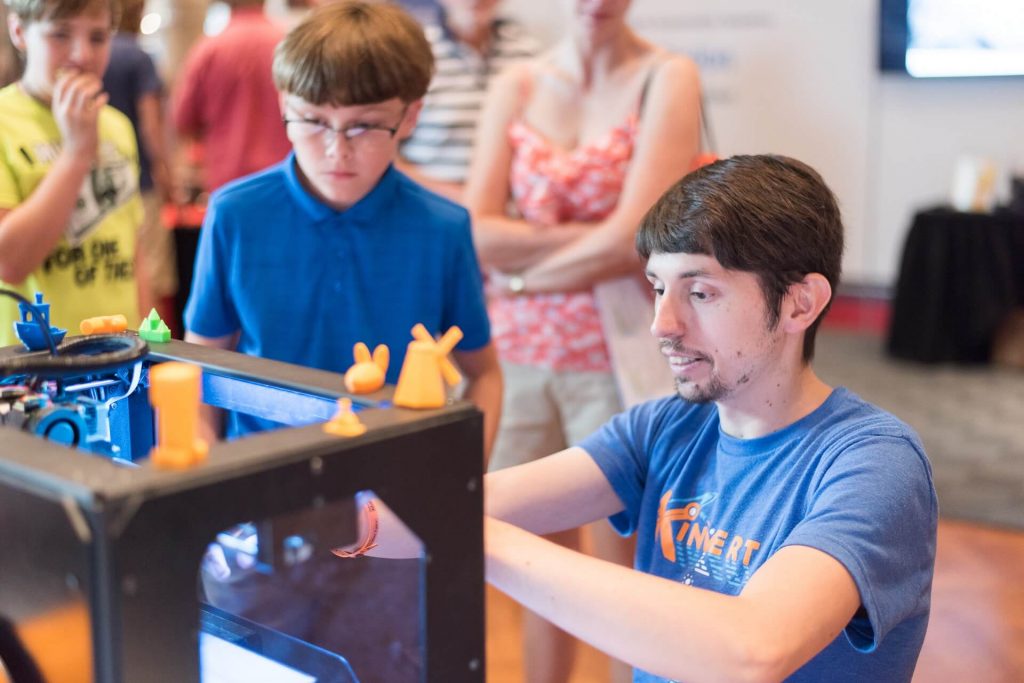 Another unique aspect of our 3D Printer is kids like the one above could design their own unique creation and print it for free right at Maker Faire Detroit. The line was long and we got a lot of kids the chance to make something of their own at this event dedicated to making. This kid was very eager to hold their first Designed and 3D Printed creation.
These girls got to see several things made by Kinvert students through the semester including some custom made Fidget Spinners. Some students brought in Fidget Spinners, and I told them they could only use Fidget Spinners in class if they Designed and Made their own.
Thanks Jackson for helping with this part of Maker Faire Detroit.
Student Made Video Games at Maker Faire Detroit
Kinvert had some students that wanted to focus on Video Game Design. Though we don't currently offer this as a direct course (please let us know if you're interested) we helped facilitate. Both students made their own Video Games to demonstrate at Maker Faire Detroit. They described how they learned the skills it took to make the games, and looked for other kids to collaborate with.
Kinvert wants people to know that you can learn STEM anywhere. Though our classes are the best around, there are other options if we are too far away or our classes don't fit your schedule. We'll be having students write an article about how you can learn Video Game Design at home and collaborate on projects. Maker Faire Detroit at The Henry Ford is the perfect way to help spread the word about STEM.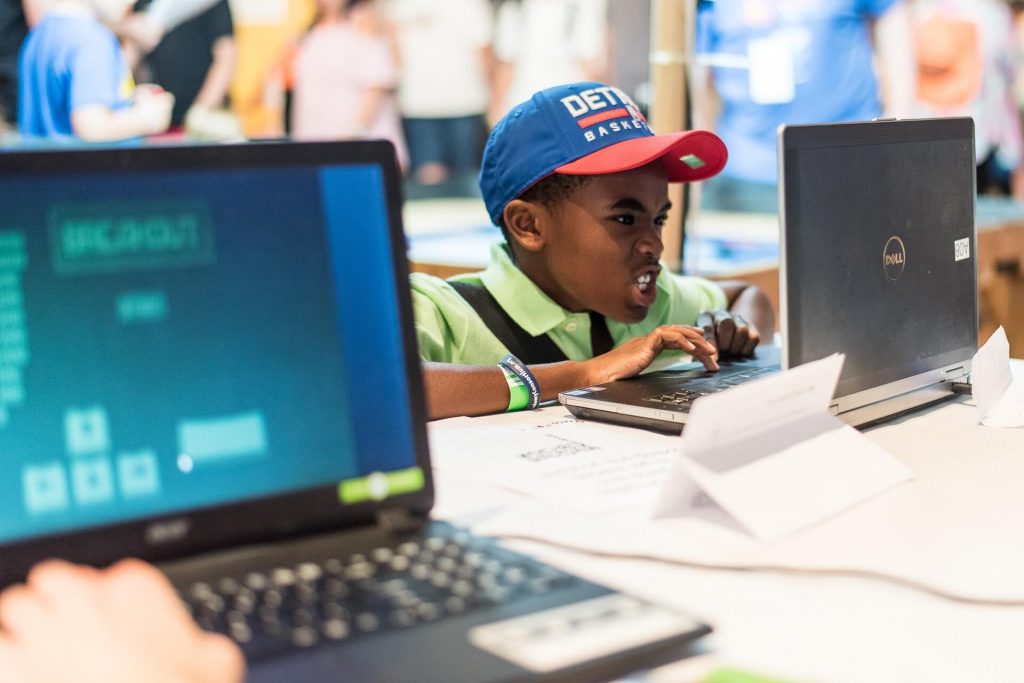 Some kids took the games pretty seriously 🙂 Thanks Isaac and Drew for helping get kids interested in STEM!
SumoBots at Maker Faire Detroit
This year we scaled back the Sumo Robotics Competition in The Henry Ford a bit in order to help us emphasize other student creations for Maker Faire Detroit. However it is important to us to bring in Autonomous Robots since as far as I know we are the only group to typically do so. It is very important for people to know the difference between a controlled and Autonomous Robot. It's basically the difference between a car and Driverless Car. The two are a world apart, and people need to know there is a local option where kids can learn about Autonomous Robots.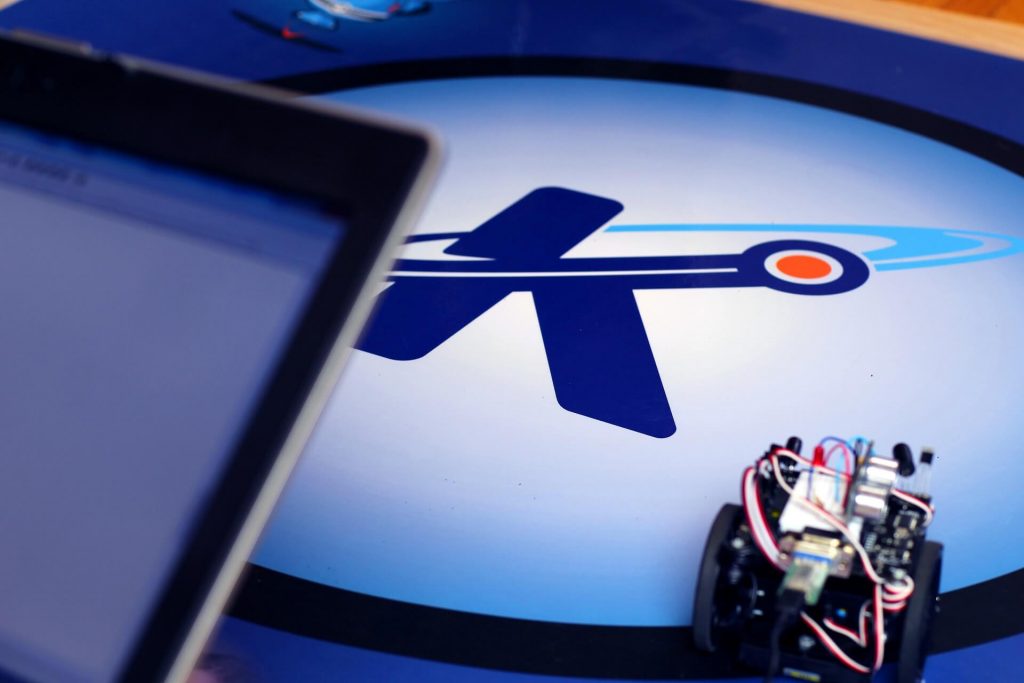 We are glad we helped get so many kids excited about Autonomous Robots in The Henry Ford during Maker Faire Detroit.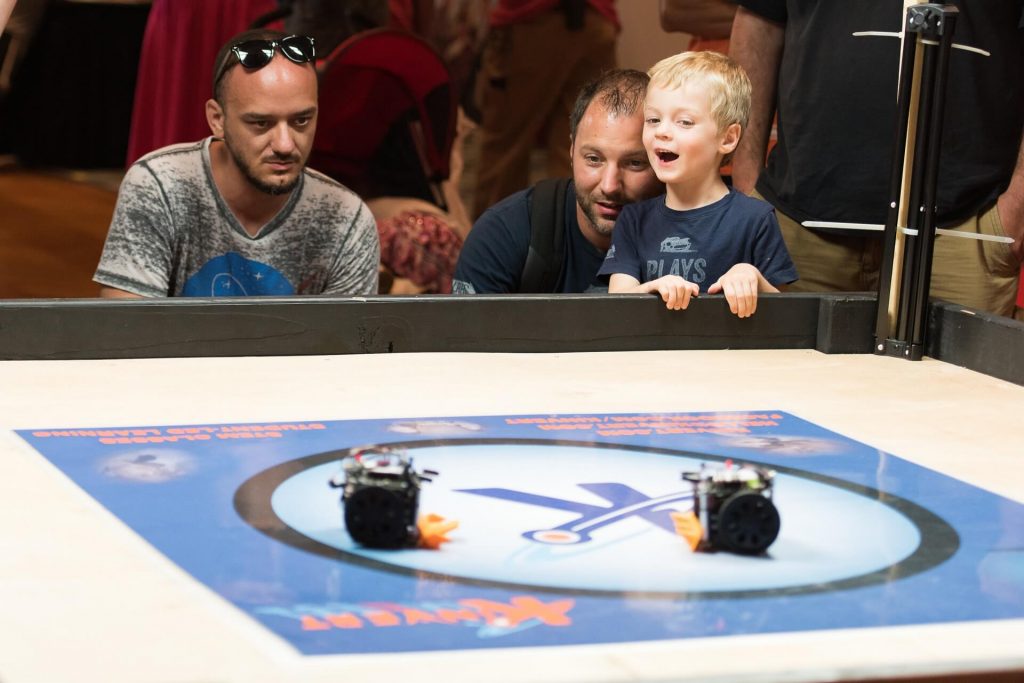 Though the competition was very similar to last year's (also at The Henry Ford during Maker Faire Detroit) there were some changes. As always kids program the Robot to use Sensors in order to operate Autonomously. In addition this year students could Design in CAD and 3D Print their own custom parts to give their Robot an advantage.
Interactive Robot at Maker Faire Detroit
A student asked what he could do to help get more kids interested in STEM. I asked what ideas he had and we came up with the interactive robot. Based on how kids interacted with the robot it would become more curious or shy.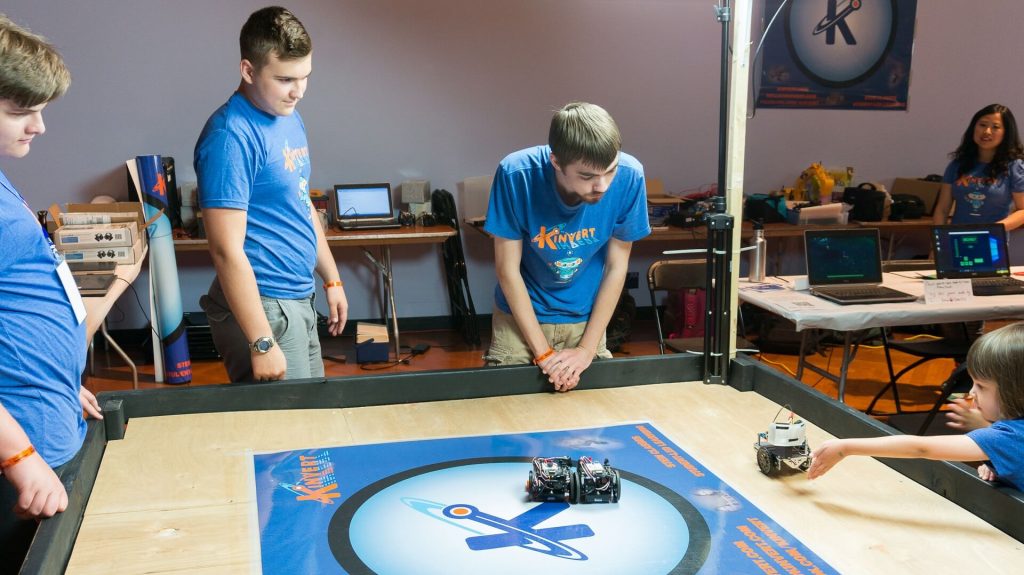 The robot was programmed in C and custom parts were 3D Printed to make it work. It was a pretty big hit until a wire broke and we didn't have time to re-solder it. The Kinvert booth was just too popular! We couldn't stop to fix it.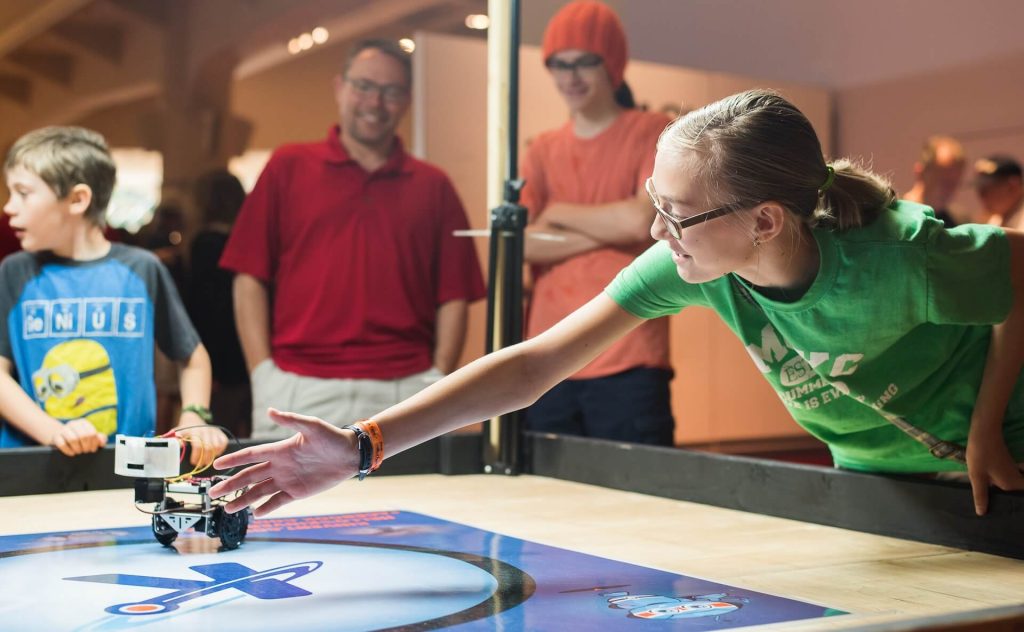 Thanks Isaac for helping get more kids excited about STEM.
Why Kinvert is a Unique Maker Faire Detroit Exhibit
You will find so many cool things at Maker Faire Detroit at The Henry Ford. How could we possibly make a significant contribution and help impact people's lives at such a bustling event?
Maker Faire Detroit is about Making, and The Henry Ford is about Innovation. Kinvert is the perfect mixture of the two. Students come up with their own unique innovative ideas and make them. On top of that, we had students making the robots right in front of spectators.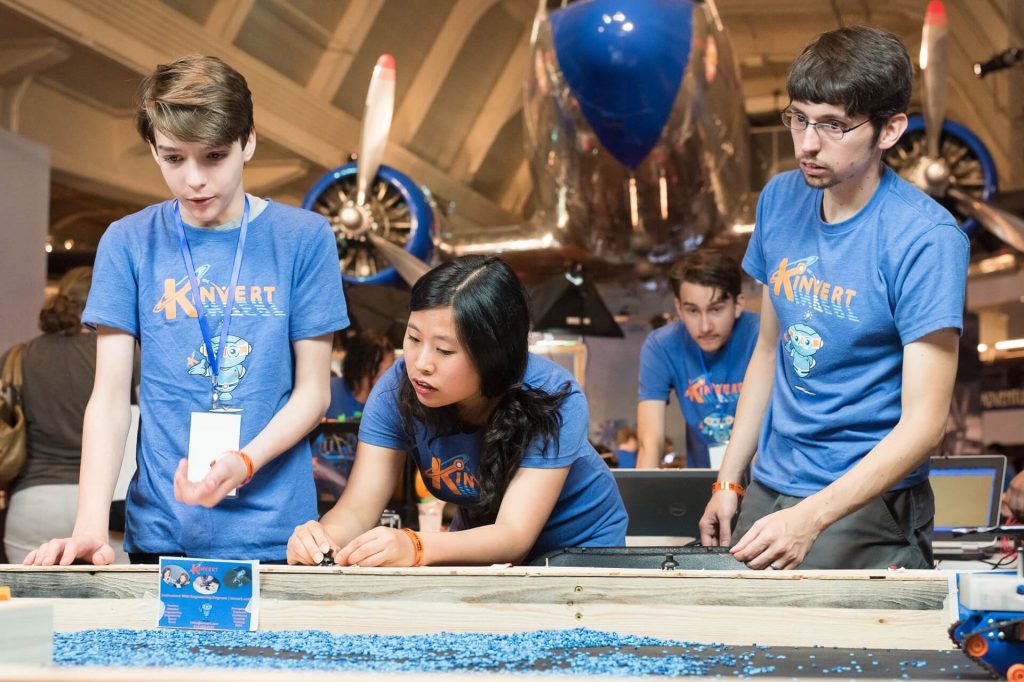 My wife and I both hold Multiple Engineering Degrees. Together we have Degrees in Mechanical Engineering, Aerospace Engineering, Material Science and Engineering, and Electrical Engineering.
We teach with the best equipment around, using our own Project Based Curriculum.
You can learn a bit more about what puts us ahead of the other STEM Programs on our About Page.
The Amount of Work it Takes for Maker Faire Detroit at The Henry Ford
Students worked the whole semester getting their Construction Robots and Army Tank Laser Tag working. They had to solve major challenges to make these College Level Projects happen.
We also had the help of several parents, including Jen Kocher who took the pictures of the event.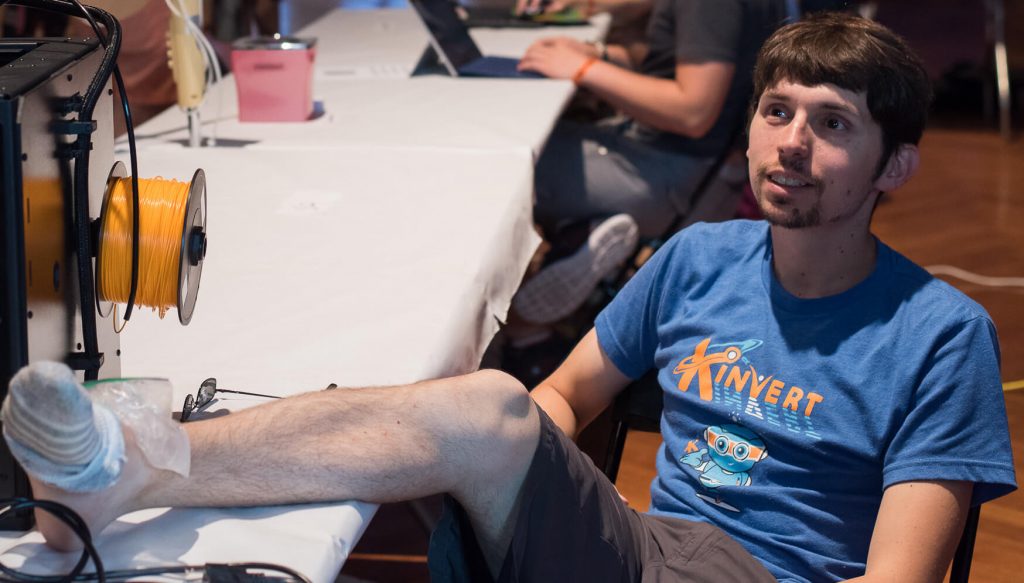 Even though I dislocated my ankle Saturday morning on the way to Maker Faire Detroit, the show must go on. Luckily before the event started I had a chance to ice my ankle, and the second day I got a rolling stool and a wheelchair.
How to sign up for Kinvert classes
At the bottom of the Courses page is a Sign Up Form. Payment isn't due until the first week of class. You can drop the class before the second week for a full refund no questions asked.
Sign Up at Bottom of Courses Page – Risk FreeKinvert teaches in the Metro Detroit area and has taught in Oxford, Warren, Clarkston, Lake Orion, Auburn Hills, Rochester Hills, West Bloomfield, Royal Oak, Troy, Farmington Hills, and more. If you would like classes in your area please let us know and we'll see if we can get a group going. You can let us know on our Contact Page.
How to Be Part of Maker Faire Detroit Next Year
We already wrote an article about How to Be Part of Maker Faire Detroit Next Year. Basically the same answer applies here. Get your kids started in Kinvert STEM Courses and aim to get them in Kinvert Mentor or one of our Robotics Competitions. Kinvert Mentor goes year round. The Robotics Competitions are part of our Summer Program which will begin again in 2018.
How to save on classes
My favorite way to save is the Refer a Friend program. By doing this you get to save money, your friend gets to save money, your child can learn with their friends, and it helps spread the word about our valuable STEM program. Over 95% of our growth is from word of mouth. Families love our classes and they're eager to tell their friends. We hope you'll do the same.
You can find more ways to save on our Courses Page.
http://detroit.makerfaire.com/maker/entry/60/
Thanks to:
The Henry Ford
Maker Faire Detroit
Parallax
Thanks Jen Kocher for the amazing pictures!
All the parents and students that volunteered to help