Want to be a part of the best Tech experience in Southeast Michigan?
Look no further than Maker Faire Detroit held in The Henry Ford.
Whether you like new technology, arts and crafts, DIY, or STEM Education, Maker Faire Detroit is the place to be.
Check out What Kinvert Did at Maker Faire Detroit 2017.
What is Maker Faire Detroit?
This description nails it. "Maker Faire is the Greatest Show (and Tell) on Earth – a family-friendly festival of invention, creativity and resourcefulness, and a celebration of the Maker movement."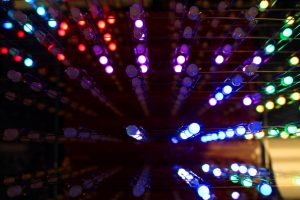 Is it a fun educational experience? The 25,000+ people that attend yearly sure seem to think so!
Somehow the folks at The Henry Ford manage to pack in the exhibitors who bring in everything from custom bikes to giant 3D Printers.
Each year Kinvert is an exhibitor. Click here to see what we did at Maker Faire 2016 for STEM Education.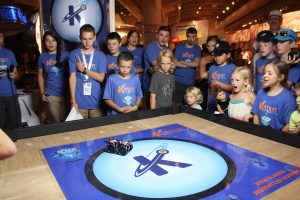 We will be writing an article on what to expect for this year's Maker Faire Detroit event, held at The Henry Ford, in the near future.
For now, just understand that if you like anything tech related this is an amazing event. You will see high end modern equipment right next to something a person built in their basement. You'll see an array of 3D Printers, LEDs, Robots, Arts and Crafts, and so much more.
Kinvert's Part in Maker Faire Detroit as an Exhibitor
Kinvert's goal is to solve the world's problems by mentoring the kids that will go on to solve them. You can learn more about Kinvert's goals here.
When going to Maker Faire Detroit as an exhibitor we aim to spark curiosity in STEM. Kinvert gets kids excited about Science, Technology, Engineering, and Math and encourages them to learn more at home or school. We don't only want kids to learn these skills, but apply them through hand made projects like you will see at Maker Faire.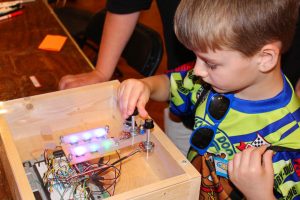 To do this we focus on having students work as teams on projects to bring to Maker Faire. It's one thing to see Keith, a Multiple Degreed Engineer and winner of Robotics Competition, build cool Robots. It's another to see students of the same age making amazing accomplishments with their new Tech Skills.
When a kid sees this they think "You know what, I could make that too."
While other groups use low hanging fruit such as Lego and free tools such as Scratch, Kinvert focuses on real College Level Robots. We teach with Industry Level Programming Languages rather than visual. The result is not only a better challenge for our students, but more applicable knowledge. You won't find many jobs in Lego or Scratch, put you'll find thousands in Microcontrollers and Python.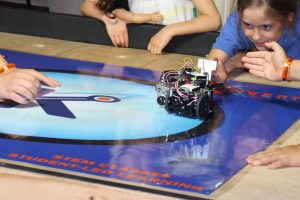 This helps students develop better Critical Thinking, Problem Solving, and Teamwork Skills. The answers are less cut and dry, and they aren't simply following steps in Tutorials. They are challenged because they are taking on new projects that others haven't done before while using modern technology.
This helps demystify technology. It removes the 'Black Box' and shows kids that if our other students can do high end projects, so can they! This is what we want to convey to kids at Maker Faire.
This makes us a very unique addition, and we're very happy we can add to the diversity of this Summer Event.
Why You Should Go to Maker Faire Detroit
Maker Faire is simply an amazing experience. Even if you aren't in to Tech or cool contraptions this event is still a unique experience.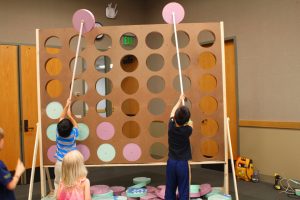 You will find many people that are passionate not only about Tech and STEM, but also arts and Education. This is way cooler than a visit to a normal museum or zoo. Maker Faire Detroit only happens once a year and it is truly what we plan our school year around at Kinvert.
Why You Should Get Involved in Maker Faire Detroit
Going to Maker Faire Detroit is a cool experience, but there is something that is even cooler. You should be a part of this amazing Summer Event.
You will meet a lot of cool people with similar interests. More importantly, you can help us get kids excited about STEM.
Oh, and you'll have an excuse to make cool stuff like this giant Tetris game.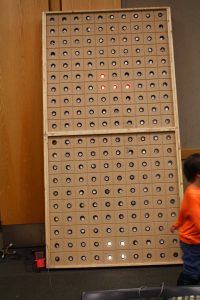 How to Attend Maker Faire Detroit
I have heard of people finding coupons. I believe they found Maker Faire Detroit Groupons.
We did some digging to help make this easier for you. Keep in mind, if you are an exhibitor, or if you are part of our booth you can get in for free. But even better than that, you get to be a part of Maker Faire Detroit – not just a spectator.
You can find a link to the Maker Faire Detroit at The Henry Ford Groupon here.
Don't want to save by getting a Groupon? You can find Ticket Prices here.
You can buy tickets at the door but honestly I'd recommend getting the Maker Faire Detroit Groupon. Although my bigger suggestion is to be part of the event with Kinvert! Scroll down to learn how.
How to Get Involved in Maker Faire Detroit
Though it's too late to apply to be an exhibitor, you can still be involved this year by taking part in our Summer Camp for Kids. After the camps end, students will take part in our Robotics Competition which takes place at The Henry Ford during Maker Faire Detroit. So this is your last chance to be involved directly this year.
What about next year? Well we hope you will be a part of the Kinvert family and help kids get excited about STEM with us. But, you can also apply to be an exhibitor for the event.
When and Where is Maker Faire Detroit This Year?
You'll want to go to The Henry Ford on July 29th and 30th to be a part of this event in 2017.
Maker Faire Detroit takes place inside The Henry Ford, and also outdoors in the parking lots.
The Henry Ford is located at 20900 Oakwood Blvd in Dearborn Michigan.
The event will take place from 9:30AM to 6:00PM.