Kinvert will show you how to open Cozmo Code Lab in the Cozmo App. The process is simple. After that, we show you what you can learn with Cozmo Code Lab.
Getting Started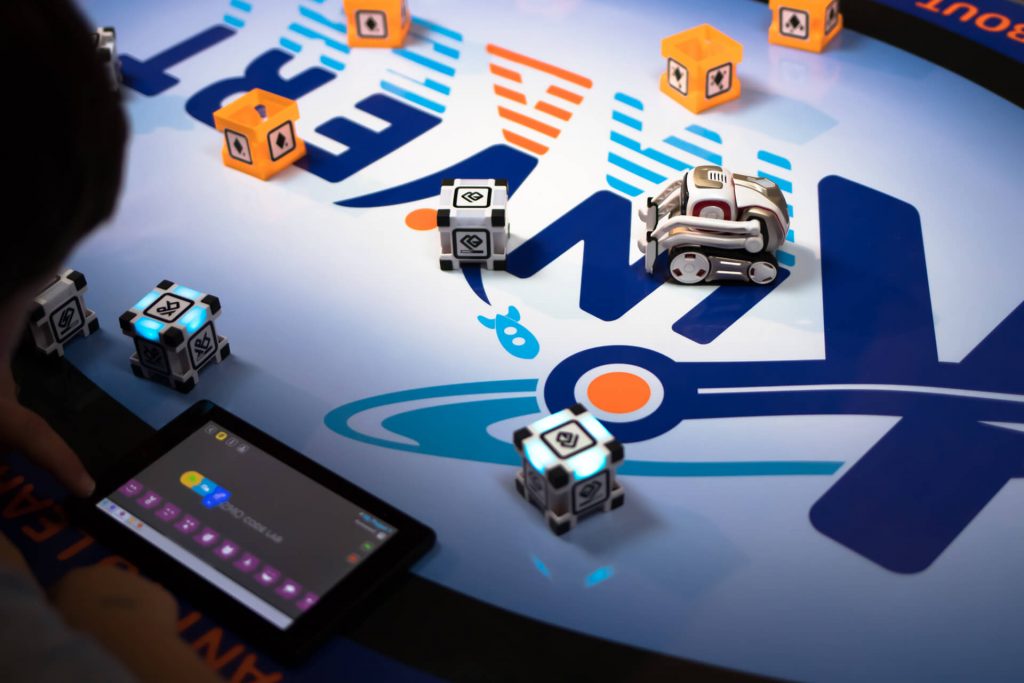 Before you can open and use Code Lab for Cozmo, you'll need a few things. These might seem obvious but we'll list them anyway.
You need:
A Cozmo
A compatible device (phone or tablet)
Cozmo App Installed
Cozmo Works With App
This is mostly here in case you have to troubleshoot something.
Opening Cozmo Code Lab
To open Code Lab you'll want to be on the home screen of the Cozmo App. Cozmo should be driving around and doing his usual thing.
You'll see some larger icons with things you can do, such as Explorer Mode. Scroll until you see Code Lab and choose that.
You're now in a menu where you can choose three bottom tabs. On the far left is Sandbox Mode. In the middle is Constructor Mode. And on the far right are some Featured Projects.
What Are the Modes For?
We'll probably write a more in depth article about this in the future.
Long story short, Sandbox Mode is the easiest to learn but the least powerful. Constructor Mode is a little harder to learn but is much more powerful. The Featured Projects are basically programs others made in Cozmo Code Lab Constructor Mode which you can play and even modify.
That's Basically It
It's not hard to open Code Lab. I write this because I've had a couple people on our mailing list ask. We have a wide range of people who are completely new to Cozmo all the way to people who work in AI, and we try to answer all of your questions.
If you're interested in joining our mailing list just fill out the form below. You can unsubscribe at any time.
After you fill out the form a confirmation email will be sent and you won't get any emails until you hit confirm. If you can't find the confirmation message be sure to check our promotions / spam folder.
Other Things to Read and Do
If you're interested in Cozmo Code Lab you'll probably also want to read about Block Coding and the Age to Teach Kids Python. Perhaps even What is Robotics is a good article to read.
If you think you're ready for Python check out the Cozmo SDK, Cozmo Examples, and Cozmo Vs Vector.
Note Anki Has Shut Down So Keep Anki Cozmo Safe.
Finally, you can read Anki's article about Kinvert at https://developer.anki.com/blog/features/interview/from-stem-to-learn/