Math Playground is a cool website with free math games. We'll tell you about Math Playground and other free online math game options.
The way Math is taught tends to make a lot of kids hate it. So it's good to find ways to keep Math fun for kids and help them make some progress.
Please note, not all the games on this website are free. Many are labeled as Premium and require a paid membership.
Math Playground Outline
Here are the main things we'll be talking about in this article about Math Playground and other free online Math game options.
Math Playground Intro
Pros
Cons
Alternatives
Other Stuff You Might Like
Math Playground Intro
Math Playground is a great website where kids can play free online Math games. Their slogan is Give Your Brain a Workout.
They focus on 1st to 6th grade math with more than 350 learning games.
Some of their games are Premium and require an account to play.
Lots of their games are Common Core, so keep that in mind.
Math Playground Pros
Though I don't have official numbers on this, Math Playground does seem to be the most popular place to play online Math games.
The games are free, and many don't even require an account.
They cover a reasonable age range by providing over 350 games for 1st to 6th graders.
If you are in to Common Core, there are a lot of choices for that here.
Math Playground Cons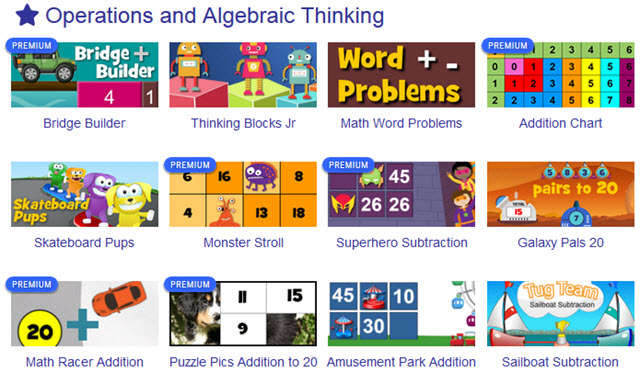 Some games are 'Premium' and require a paid account.
They don't provide higher level Math games that cover topics such as Algebra and up.
There are tons of ads.
The site is very messy. It's hard to find the right games.
Not everything on the site is free.
There is little to no tracking of student progress on Math Playground.
If you aren't a fan of Common Core, things might be tough as a lot of their games focus on it.
Math Playground Alternatives
You can find lots of free online Math games at other places. Here are some alternatives.
Education.com
MathGameTime.com
SplashMath.com
FunBrain.com
There are tons of great options if you want to play free online math games.
You might also want to consider some more physical games to help practice Math.
Other Stuff You Might Like
You can find them at https://www.mathplayground.com/.
We also talk about a lot of other STEM related stuff at Kinvert.
Since you're here about Math games, you might be interested in Real World Math Problems.
If you want to learn more about Robotics check out Cozmo Vs Vector, Sphero RVR SDK, What is Robotics, and Homeschool Robotics.
There is also lots of stuff here about 3D Printing such as 3D Printer Repair, Flexible TPU Filament, What is ABS, What Does ABS Stand For, and Monoprice Mini Delta 3D Printer.