What's inside Anki Vector? What hardware did we use? What are some of the things that set's Vector apart from Cozmo when it comes to hardware? Let's dig in with everything we know so far.
As with all of our other Vector articles, expect many update. News of Vector just broke days ago and we're all slowly finding out new exciting things about him.
Check back often, at least until after Christmas when the news might slow down.
Anki Cozmo Vs Vector With Comparison Chart
What's Inside Anki Vector – Outline
New Features Vector Has That Cozmo Doesn't
Anki's Video – What's Inside Anki Vector?
6 Axis IMU – Inertial Measurement Unit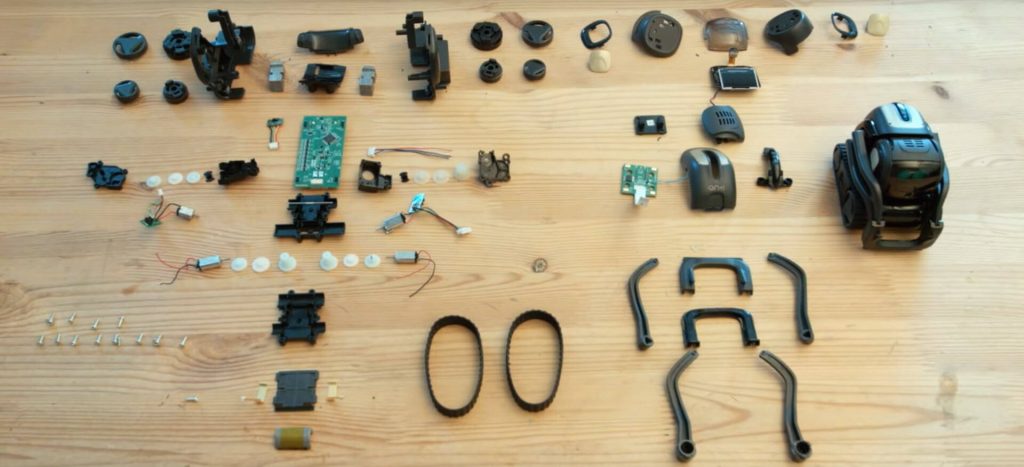 Source: Anki's YouTube Channel
New Features Vector Has – Cozmo Doesn't
Distance sensor in front
Multiple edge sensors to prevent falls
Capacitive touch
Better camera
Microphone array
Brains onboard – not on phone
The Cloud…
Anki's Video – What's Inside Anki Vector?
Let's Break it Down
We'll go through each feature of what they show in the video before moving on to some of the other sources of information we have.
I'll go in order here.
Inside Vector – Qualcomm 200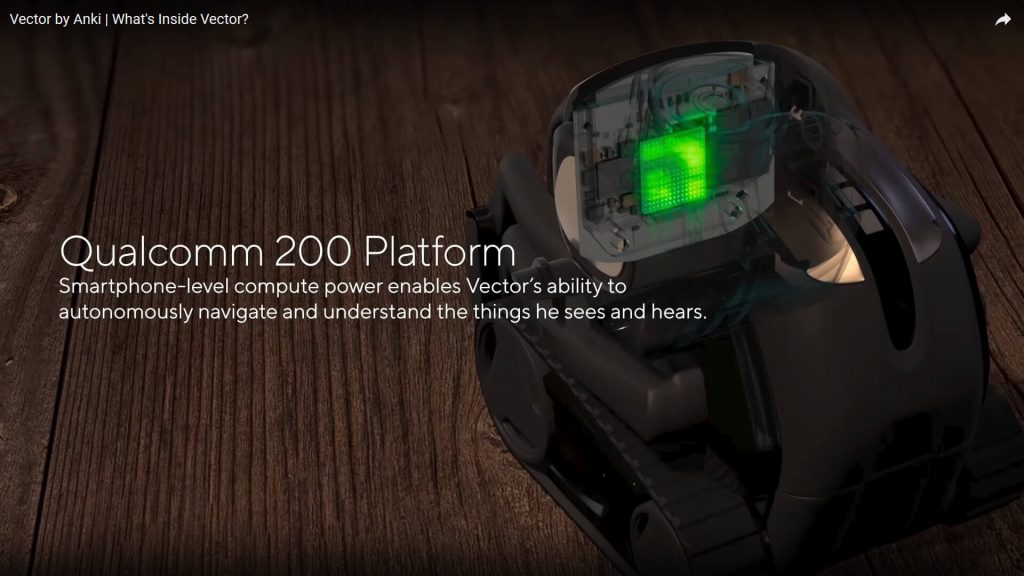 Source: Anki's YouTube Channel
Inside the Anki Vector is a Qualcomm 200. This brain is well over an order of magnitude better than the processor that was inside Cozmo.
This processor is called the Qualcomm Snapdragon, it has 4 cores, and clocks in at 1.2GHz. Compare this to Cozmo's single core 100MHz brain, the Arm Cortex 4.
Though this is cool and all, it really does open up a world of possibilities.
For one thing, by having the Qualcomm chip inside Vector, we can now offload all the processing from the phone you needed for Cozmo.
For single users this is nice. But for educators it's a complete gamechanger. You no longer need to buy a fleet of tablets or phones to teach amazing Python for Kids.
We also talked about this problem in our article on the Cozmo SDK in Python. Problem solved. Vector drops the ball and chain. Rejoice!
Inside Vector – Capacitive Touch Sensor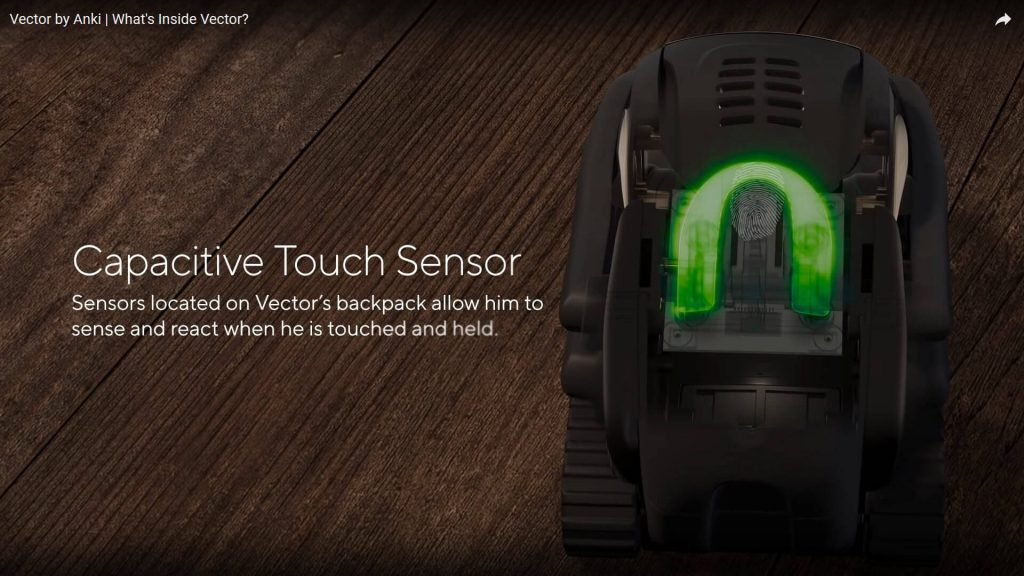 Source: Anki's YouTube Channel
Anki Vector will sport a Capacitive Touch Sensor. This will allow Vector to know if he is being touched by a hand for example. Even if you are pressing gently, it will probably register the touch. This is not mechanical so you don't have to push hard enough to engage a button. This is capacitive so it essentially feels the electrical variance your hand causes. Very cool.
Just a random example, you can now pet Vector and in your program you write in the SDK you could probably make him purr.
Inside Vector – Microphone Array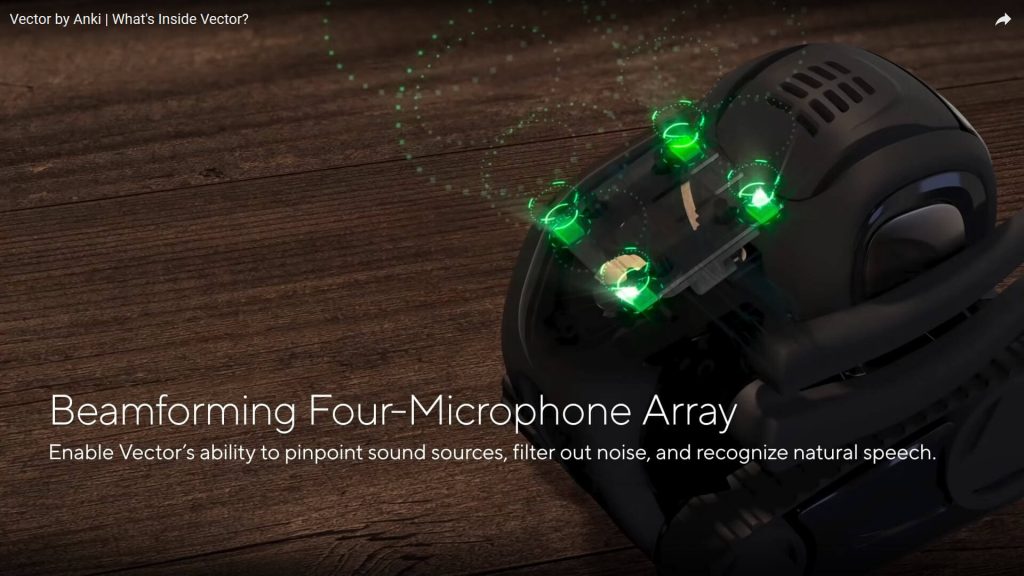 Source: Anki's YouTube Channel
This was a feature I wanted so badly, and here it is! Vector has not only a microphone, but an advanced microphone array.
Why does it matter that it's a microphone array instead of just a microphone? Glad you asked!
This allows Cozmo to hear voices and other noises, and also know what direction they came from.
Inside Anki Vector – HD Camera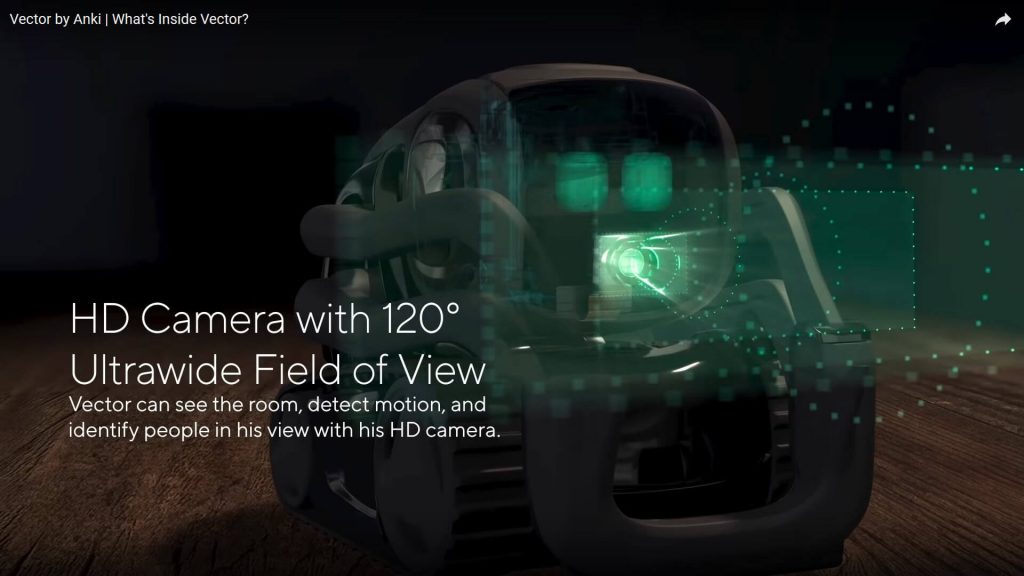 Source: Anki's YouTube Channel
More to come. Sounds like we get a higher resolution here. We'll see how well Vector can handle real time computer vision with the higher resolution of this HD Camera. I have a feeling that he can handle his own functions very well on the Qualcomm chip. Hopefully whey they release the Anki Vector SDK in Python the computer vision algorithms we write with tools like OpenCV happen on the computer.
Inside Anki Vector – Drop Sensors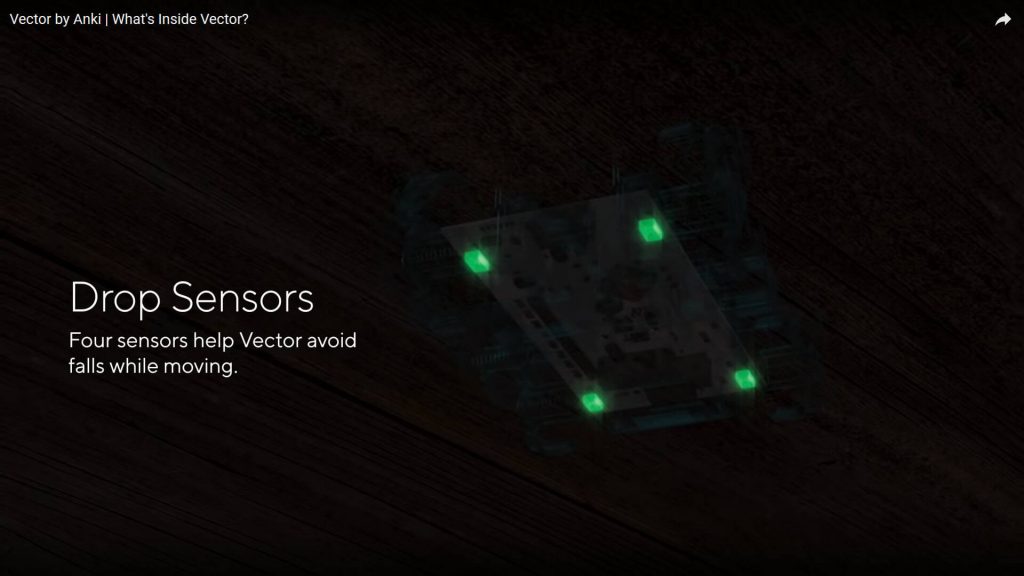 Source: Anki's YouTube Channel
Our students learning Python in our Robotics Classes for Kids and Teens constantly drive Cozmo off the table. Luckily we haven't broken a Cozmo yet. That said, every time I hear that telltale SMACK I freeze.
This will hopefully be a thing of the past now that the Anki Vector has 4 drop sensors. This is a huge improvement and I hope the feature is added early on in to the SDK.
Inside Vector – Infrared Laser Scanner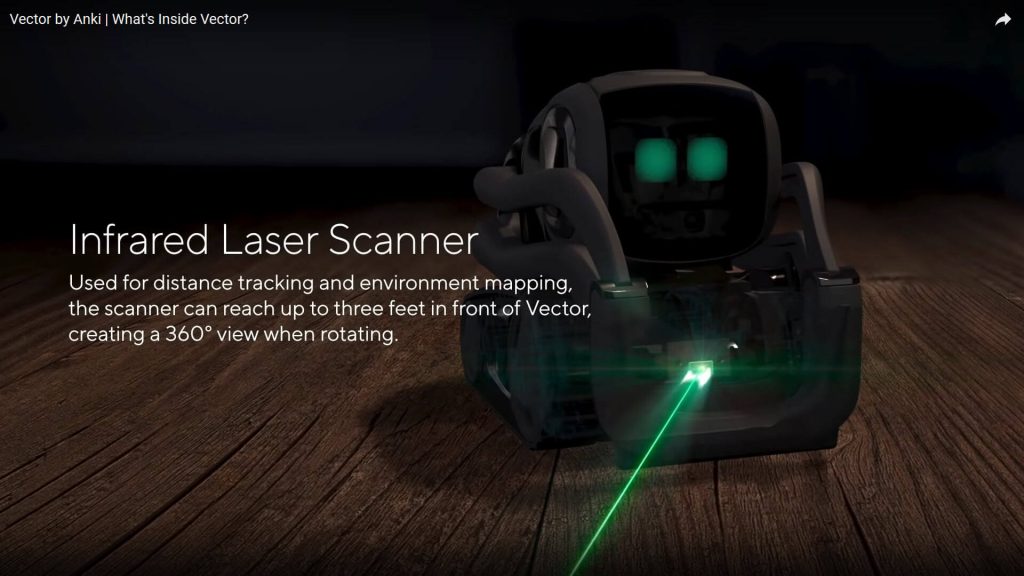 Source: Anki's YouTube Channel
I don't know if this is slightly exaggerated or not yet. Is this really a laser? Is it TOF? Is it really a scanner that can sweep through an angular range and develop a point cloud?
These sorts of sensors tend to be very expensive and large.
So honestly I don't know what to expect here other than I'd bet my bottom dollar there is a distance sensor. Hopefully at least as good at the Sharp IR sensors you can get for Arduinos and Parallax ActivityBoards, granted in miniature form to fit in Vector.
I will update this section in particular as I learn more. No – Cozmo won't have a green laser. That's not what they're trying to say here (I think).
Inside Vector – 6 DOF IMU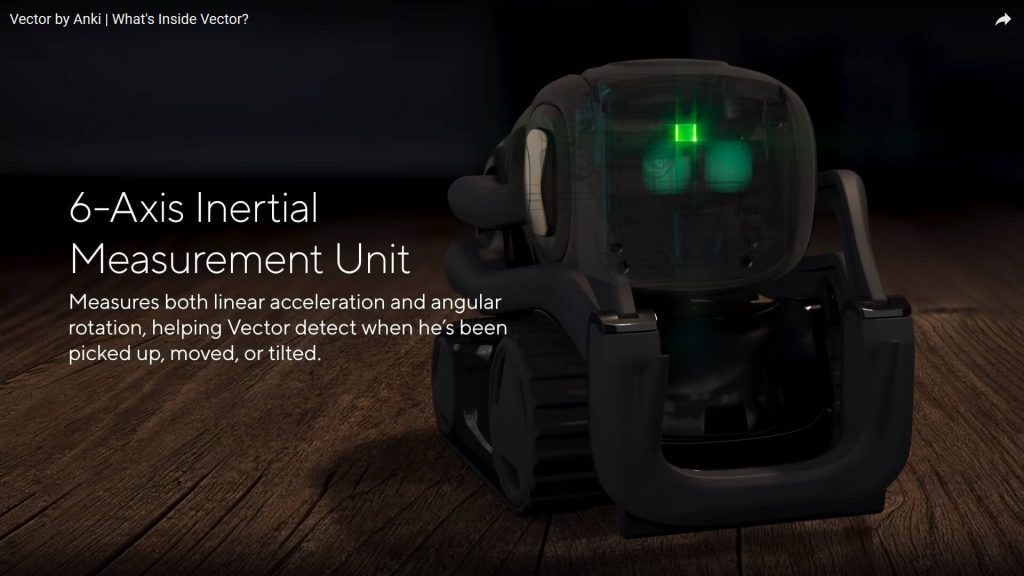 Source: Anki's YouTube Channel
This is exciting too. Having the data from a 6 Axis / DOF IMU will be a great thing for the SDK. You'll be able to tell if Vector is climbing a slope, or if he hit an obstacle while trying to traverse a path.
Inside Anki Vector – IPS RGB Display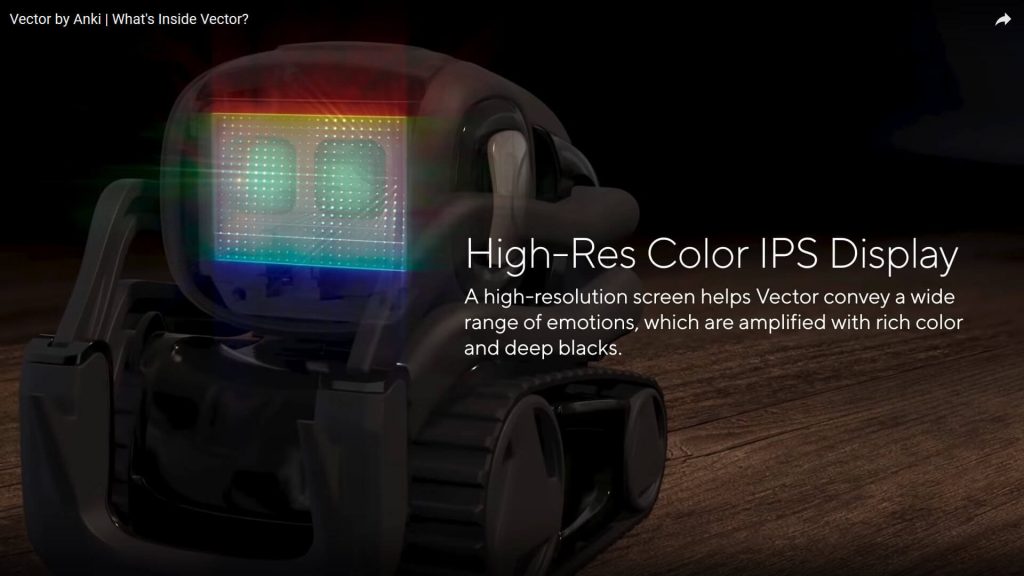 Source: Anki's YouTube Channel
FINALLY a color display! We wanted this very badly with Cozmo and we get it now with Vector. Great news.
Screen Resolution is apparently going to be 184 X 96 and will be full color as you can see below.
Useful Links
If you haven't already, make sure to back Anki on Kickstarter!
https://www.kickstarter.com/projects/anki/vector-by-anki-a-giant-roll-forward-for-robot-kind
Eventually you'll need to replace the cube battery. How to replace Vector's Cube Battery.